💃 The Origins of Latin Dances 💃
Posted by TEAM CUPIDANZA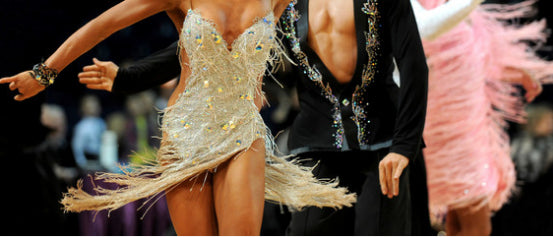 Dance is an Art. It also conveys the feelings and culture of an entire country. Especially Latin dances. Latin dancers often say that dance says more than words do.
So if you are passionate about dancing and if you want to try something new like dancing with a partner, find out what Latin Dance type is made for you, discover more about its roots and what it can offer you…
Cha-cha-cha 💛
Cha-cha-cha is a relatively easy dance to learn. Invented in 1954 by Cuban violinist Enrique Jorrin, it is a dance that quickly gets you going in the evening. Its main characteristic is the chassé performed on the "four and one" of the dance count. Cha-cha-cha is classified as a sport competition dance in the Latin dance category.
Rumba 🧡
Rumba is considered to be the dance of love. It takes its origin in the popular dances of Cuba. The first version of the rumba is marked by its slow movements and the melee which reflect, in other words, the sensuality which does not leave you indifferent. The current version, "Cuban rumba" is more characterized by the fact that the partners are more distant, which allows dynamic gestures to be inserted in the succession of languid gestures and is danced to a 4/4 musical rhythm.
Mambo 💙
Originally from Cuba, mambo is both a musical genre and a style of dance. It is particularly popular among American people. This dance is performed to a 4/4 musical rhythm. A basic step made on 8 beats corresponds to 12 movements and there is a small stop in the movements on even accounts. Some mambo dancers hug their partner's waist in their right arm and therefore rest their left arm on their partner's left hip.
Salsa 🧡
Salsa is one of the Latin dances that get you moving. Salsa dance steps were not invented or coordinated by professional dancers like the previous ones. As a result, several currents that are mixed on the dance floor.
There are two versions of salsa namely Cuban salsa and Puerto Rican salsa. Like mambo, it is danced on a 4/4 rhythm.
Paso Doble 🤎
Created in 1920, the paso doble is a Spanish dance that is part of the simplest Latin dances at the beginning. The couple's outfit is classic, but then you have to remember that the dancer plays the role of the bullfighter and that the woman, the red cape. The whole dance then consists of a game in which the gentleman, the lady and the imaginary bull play together.
The paso doble is one of the competitive dances in the category of Latin dances. It is danced on a medium 2/4 rhythm.
Bachata 💜
It is the dance that mixes bolero with other African musical genres. Bachata is a dance from the Dominican Republic and is played by several types of guitars. The movement of the dance is simple, it is a series of simple steps that produces movements back and forth and side to side. Bachata is easier to learn than salsa or rock. The character of the dance is obtained by a sensual movement of the body and hips.
Samba 💚
Samba is a popular dance at Brazilian carnivals where it originated. The samba dancers are dressed in costumes and wear masks that prevent most movements except the feet.
Musically, Samba is danced on a rhythm noted 2/4 or 2/2 and sometimes 2/4, but it depends on the musicians. While samba is Brazil's own dance, it quickly took hold in international Latin sports dance competitions.
🖤🤍 Do you want to add something about the information above? Feel free to share with us your knewledge about Latin Dances. 🤍🖤
Credits (photo & text) : Many thanks to Angelio Academia for this great article we translated from French.
Your Cupi Team. Collection 2019 Sale 70% Off Title for image